The Clear Sky Evening
Astrophoto Markarian's Chain Clear Sky 16.
A very special evening for me, but lets start at the beginning …
I thought it could be nice to shoot with a 2nd camera with a shorter focal length to get a larger view. I found, that legacy objectives can be nice for astrophotography. Some of them are from the 70s or 80s.
Fast i found the Olympus Zuiko MC 200mm. I believe this one is from the 70s. They are all made for fullformat and this MC model got very few color problems. I found a very nice one on ebay and got it for less than 100 EUR.
I used it as a piggyback on top of the Vixen at my old CANON EOS 1000D and controlled the camera with a 2nd notebook.
My target was the Markarian's Chain and to get some nice overview picture with the Zuiko.
Markarian's Chain
I had to stack the Chain out of only 7! 🙁 photos. I was really frustrated. This was not a good evening in "mastering the technical things".
But still, here is the high resolution Astrophoto on Flickr:
Virgo Cluster
Also the widefield picture had to be stacked out of less photos than usual. It were only 13. This evening was nothing for my nerves.
In the end, there was still a Picture: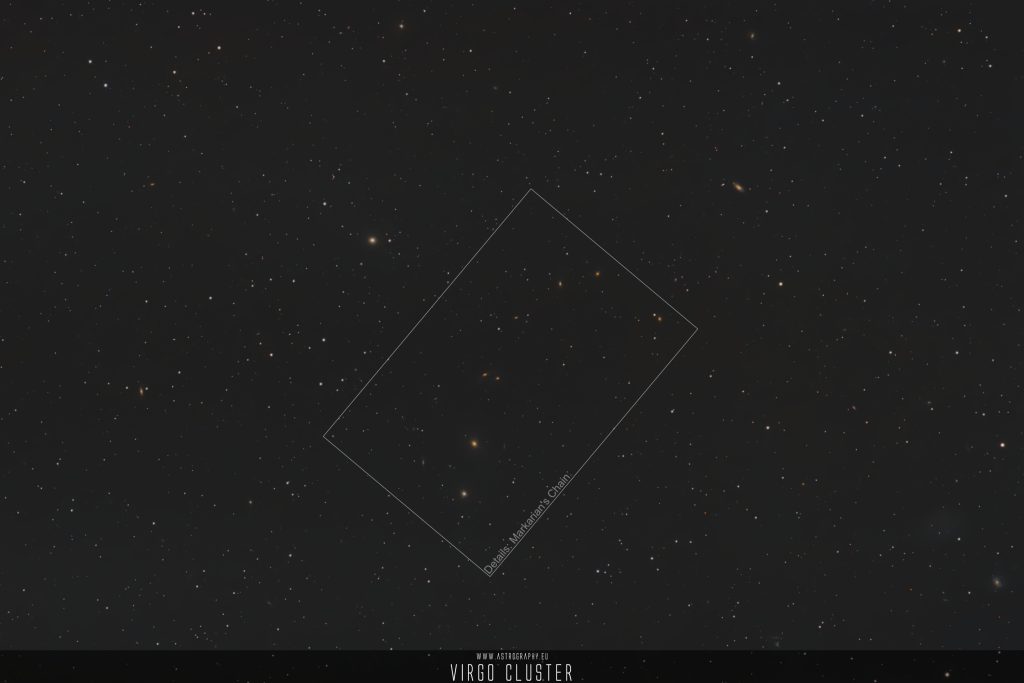 Lessons Learned
The most important thing was, beside all the problems, it works! But i have to master the technical things. I still had the problem finding the objects after slewing to them.
Using a 2nd notebook is also damn annoying. I will find a solution for that! Because the Zuiko MC is a really nice new tool. At least when you look ar the price.
On the main optic, the Vixen, i did exposures between 30s and 600s at ISO between 200 and 3200.
What i learnd this evening and killed this evining: Long exposures with the CANON EOS M100 are not possible with EKOS! But this is a known problem. It nearly ruined the evening, especially wen the camera crashes all the time and slewing again to the target is a pain every time i have to do it.
Technical overview main optic of Astrophoto Markarian's Chain Clear Sky 16
| | |
| --- | --- |
| Telescope | VIXEN ED80sf |
| Focal Length | 600mm |
| Aperture ratio | 7.5 |
| Erecting Lense | – |
| Filter | – |
| Mount | Skywatcher HEQ-5 |
| Goto-Control | EKOS |
| Mount Control | INDI |
| Guiding Scope Focal Length | 162 mm |
| Guiding Camera Chip | 4.8mm x 3.6mm, 8bit |
| Guiding Camera Resolution | 1280×960 |
| Guiding Software | EKOS, INDI |
| Dithering | 3 pixel |
| Camera | CANON EOS M100(a) |
| Method | focal projection |
| Camera angle | – |
| Camera Control | EKOS, INDI, Gphoto2 |
| Photography Date | 13.06.2021 |
| Moon | – |
| Exposure-Time Lights | 7x several exposure times |
| Sensitivity | several |
| Calibrationframes | Flats, Bias |
| Post Processing Date | 15.06.2021 |
| Stacking, Integration | Affinity Photo |
| Post Processing Software | Affinity Photo |
| Image Editing | Affinity Photo |
| Capture Place | Koblenz, Germany |
| Lightpollution | Bortle 5 |
| Scattered light | strong |
Technical overview piggyback optic
| | |
| --- | --- |
| Objective | Olympus Zuiko MC |
| Focal Length | 200mm |
| Aperture ratio | 5.8 |
| Erecting Lense | – |
| Filter | – |
| Camera | CANON EOS 1000D |
| Camera angle | – |
| Camera Control | APT |
| Photography Date | 13.06.2021 |
| Exposure-Time Lights | 13x several exposure times |
| Sensitivity | ISO 800 |
| Calibrationframes | Flats, Bias |
| Post Processing Date | 15.06.2021 |
| Stacking, Integration | Affinity Photo |
| Post Processing Software | Affinity Photo |
| Image Editing | Affinity Photo |
| Capture Place | Koblenz, Germany |
| Lightpollution | Bortle 5 |
| Scattered light | strong |