An evening with some blacks and whites. This was my very first evening on the field with my mobile battery power supply.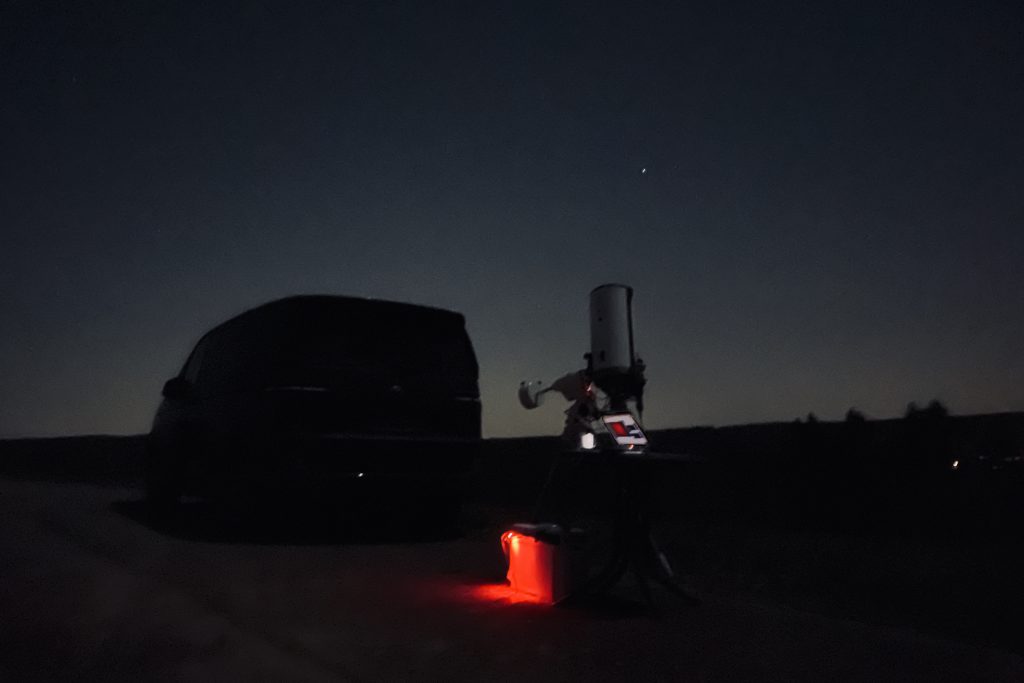 It was a bit annoying, that i forgot a part for my guiding cam. Luckily I could use a spare part of a friend for some time before he needed it himself. That way i was able to get 30 minutes of exposure time.
The final result was not more than acceptable. But since the evening was very special to me, I wanted to have a result.
High resolution on Flickr:
Technical overview
| | |
| --- | --- |
| Telescope | Vixen VISAC VC200L |
| Focal Length | 1800mm |
| Aperture ratio | 9 |
| Erecting Lense | – |
| Filter | – |
| Mount | Skywatcher HEQ-5 |
| Goto-Control | EKOS |
| Mount Control | INDI |
| Guiding Scope Focal Length | 240 mm |
| Guiding Camera | QHY 5-III-462C |
| Guiding Software | EKOS, INDI |
| Dithering | 3 pixel |
| Camera | CANON EOS M100(a) |
| Method | focal projection |
| Camera angle | 45° |
| Camera Control | EKOS, INDI, Gphoto2 |
| Motor-Focus | PegasusAstro FC2U |
| Photography Date | 02/28/2023 |
| Exposure-Time Lights | 4x300s + 10x60s (unguided) |
| Correction frames | FLATS, BIASES |
| Sensitivity | ISO 400 |
| Post Processing Date | 03/05/2023 |
| Stacking, Integration | PixInsight |
| Post Processing Software | PixInsight |
| Image Editing | Affinity Photo |
| Capture Place | Becheln, Germany |
| Lightpollution | Bortle 4 |
| Scattered light | low |